Measuring where your website traffic comes from is an essential metric for search engine optimization. This information helps us know where to focus our SEO efforts when working on websites. For the past 3 years or so, Social Media was the primary driver of traffic to websites. However, 2017 saw a major rebound in search engine referral traffic to the point that it actually outpaced referrals from social media according to a study from Shareaholic. And with privacy concerns swirling around Facebook and other social media outlets, it seems likely that the trend will continue.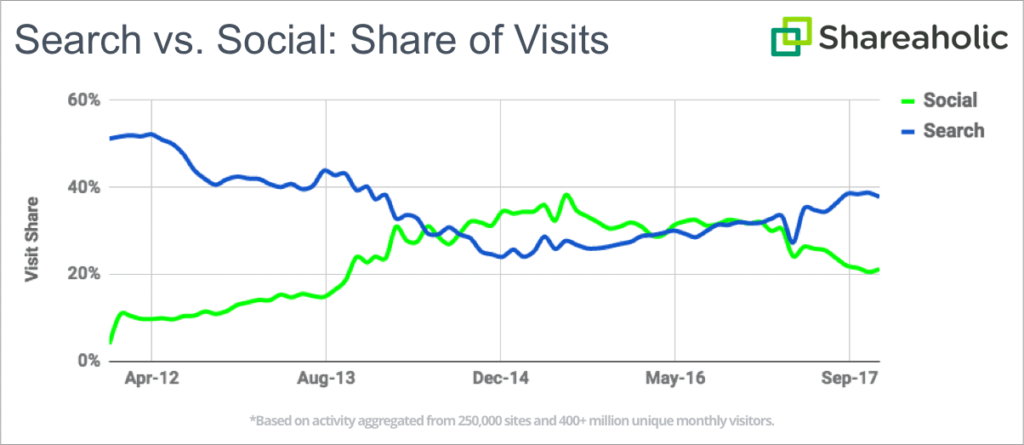 Based on further reports from Shareaholic, it's no surprise that Google dominated as the leading traffic referrer especially from their mobile platform. They were followed by Bing and then Yahoo!. DuckDuckGo, a relatively newer search engine that promises to respect privacy, made a strong showing outweighing AOL as a search engine referral source.
Of course, Facebook was the leading social media traffic driver, however, their numbers decreased rapidly in 2016 after making several changes to what content they chose to display in news feeds, according to Shareaholic. But interesting to note that 2nd and 3rd place were held by Pinterest and Instagram respectively. Twitter trailed a distant fourth as a website traffic referral source.
While it's difficult to predict the future, these trends show why is still very important to employ search engine optimization to your site. Quality, unique content and link building remain powerful tactics in helping your site get delivered in search engine results. That's not to say you should completely abandon efforts on social media but more to say a balanced SEO and Social Media program can greatly benefit your website, delivering more traffic and leads to your site.